DISCOGRAPHY

Fascinated with sound from an early age, The Manitou draws inspiration from both the natural and unnatural world. To him, the collection, creation, manipulation, and transformation of sound into music is a compulsion. That he can find an output for these creations is a bonus.

His earliest influences were the strange sounds produced by the BBC Radiophonic Workshop for TV shows such as Doctor Who, the popularization of the synthesizer in music from the 70's and 80's; even something as pedestrian as the 'secret sound' segment that aired on local radio.

The theme of entropy is a constant fascination: the decay of man-made objects and their relationship with the unstoppable onslaught of nature. A car body rusting away in the middle of the woods; the remnants of industrial processes; buildings left vacant and empty: all these things have a story, and many yield sounds and ideas. Likewise the sounds of working machines: roadworks, trains, steam engines, pile-drivers; all these things have musical value if one has a mind to extrapolate them. The sounds of nature, too, find a place in his music: birdsong, water, rain, and wind sharing space with the unnatural sounds of synthesizers.

Lyrically, he writes what he likes to call 'observational music'. If you've ever listened to Kraftwerk, you'll get the idea: no band could write a song about a calculator quite like they could. Metaphor plays a big part, and there are science-fiction and occult themes throughout. Oh, yes, there are love songs, but they tend to be about pedestrian things like lamp-posts.

Some of his influences:
Gary Numan, Jean-Michel Jarre, John Foxx, Louis Gordon, Eiffel 65, The Alan Parsons Project, Pink Floyd, Daft Punk, Kraftwerk, Genesis, Orchestral Manoeuvres In The Dark, Human League, Thompson Twins, Buggles, Delia Derbyshire, Brian Hodgson, Yasutaka Nakata; 70's funk/disco, europop, house music, and new wave.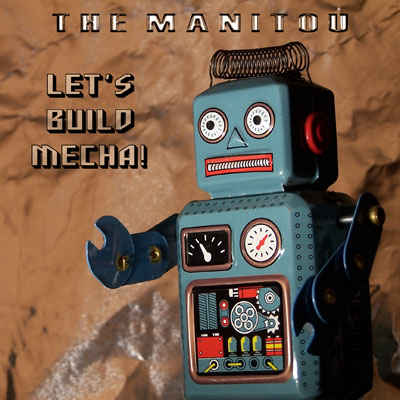 The Manitou on FaceBook
---
The Manitou on digital download & streaming services
| | | |
| --- | --- | --- |
| | | |
| iTunes/Apple Music | Spotify | Deezer |
---
Albums
Availability is noted below each release.
Cybersonic (2017)
Availability: Bandcamp
The Mechanicals EP (2012)
Availability: Bandcamp




Let's Build Mecha! EP (2010)
Availability: Bandcamp



Thought To Be Extinct (2008)
Availability: Bandcamp

Circuit Zero (2007)
Availability: out of print




Silence On The Airwaves (2005)
Availability: out of print
All art, text, music: copyright (c) 2000 - 2020 Joshua M. Blanc.